06, June, 2023
2020 Christmas Tree Trends
We Buy Any House
Like you, every property is unique, so we'll just need a few details before we can make you an offer.
What are the most popular Christmas tree trends this year?
1. Green and White
2. Frosted tips
3. Blush pink/Rose gold
4. Multi-coloured
5. All natural
6. Berry lights
7. Black trees
8. Wall trees
Every year the same debates arise around Christmas – when do the decorations go up, when do they come down, which colours are traditional, are Brussels Sprouts really needed if no one eats them? Each year, new trends emerge, and we all get to see some stunning décor, and 2020 has been no exception! We Buy Any House look at the most popular Christmas tree trends of 2020, and we even used some of them to decorate ourselves!
1. Green and white
This is one of the classic combinations, but this year has seen a stunning twist on an old favourite. Decorators following this trend are going with minimal lighting, and focusing instead on brightening their tree with white, silver, and glass baubles. Standard tinsel doesn't tend to appear on these trees, lametta tinsel is used instead, which is more delicate. The effect that these trees have are stunning, with the silver complementing green to really make it pop.
2. Frosted tips
A trend that we didn't think would make a comeback after the '90s, has taken us by storm and had us falling in love with it all over again. Some Christmas trees will already have a white tip to it, but if you're not keen on the idea of buying a new tree this year, you can still indulge in this trend. Using a can of sprayable snow, you can make your own frost-tipped tree and control the intensity of the frosting. These trees, decorated with white, silver, and pale blue decorations ooze winter wonderland vibes and are proving very popular through households this year.
3. Blush pink / Rose gold
Over the last few years, blush pink and rose gold have become a hugely popular addition to homes, being used as a complementary feature colour, pairing well with blacks and greys, and now they're being introduced into homes on Christmas trees too. They balance beautifully on trees when combined with silvers and reds, or for those who prefer warmer tones, copper, and deep browns. This is a more modern take on Christmas decorations, but one that we're loving seeing in houses!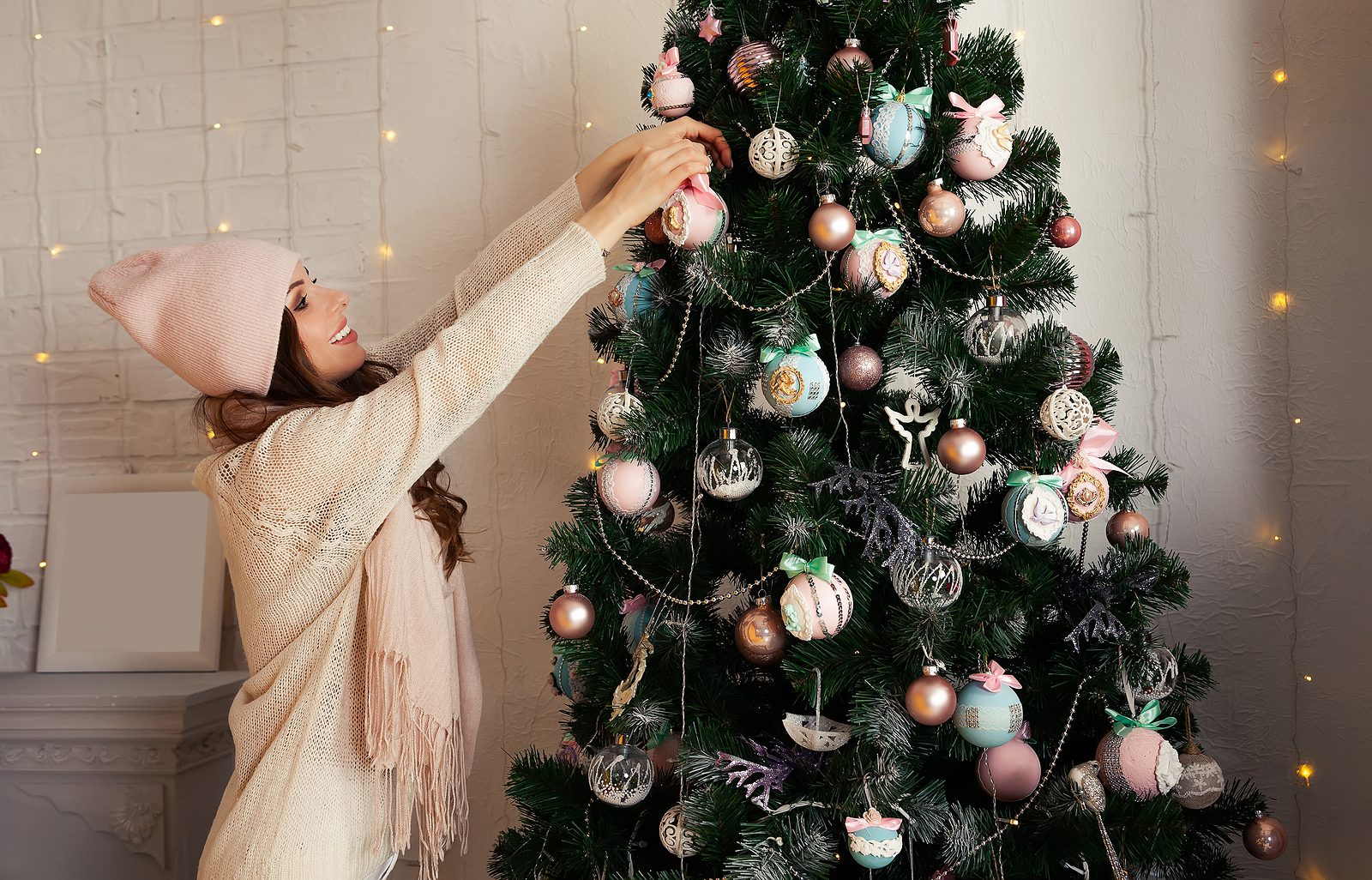 4. Multi-coloured
In previous years, we've seen colourful trees feature, but this year they are out in full force, and we're so glad that they've become so popular! All colours look gorgeous in these styles, with vibrant purples, blues, and greens really catching our eye! Another fun addition to this trend we've seen is decorators playing with various sizes of baubles, making these trees look fun and festive in a great blend.
5. All-natural
Across the country, more people have been trying to only use recyclable products to reduce wastage, and this Christmas we've seen this extend into decorations in a way we never expected but absolutely adore. Trees decorated with dried orange slices, pinecones picked from local parks, and cinnamon sticks give trees a minimal but stunning decoration style and have the added benefit of giving off delightful Christmas scents. These paired with real Christmas trees will have your house smelling festive throughout the whole Christmas period!
6. Berry lights
LED lights became the most popular options a little while back, but now we've seen another shift from the traditional LED light to beautiful berry lights. These lights are bigger than standard LEDs, and stand out more against the tree, creating an amazing effect when the tree is fully decorated. These lights raise a new debate, though – ice white or warm yellow lights? Both look stunning on trees, but we can't forget the fan favourite of multi-coloured lights that make any tree look bright and merry during the festive season.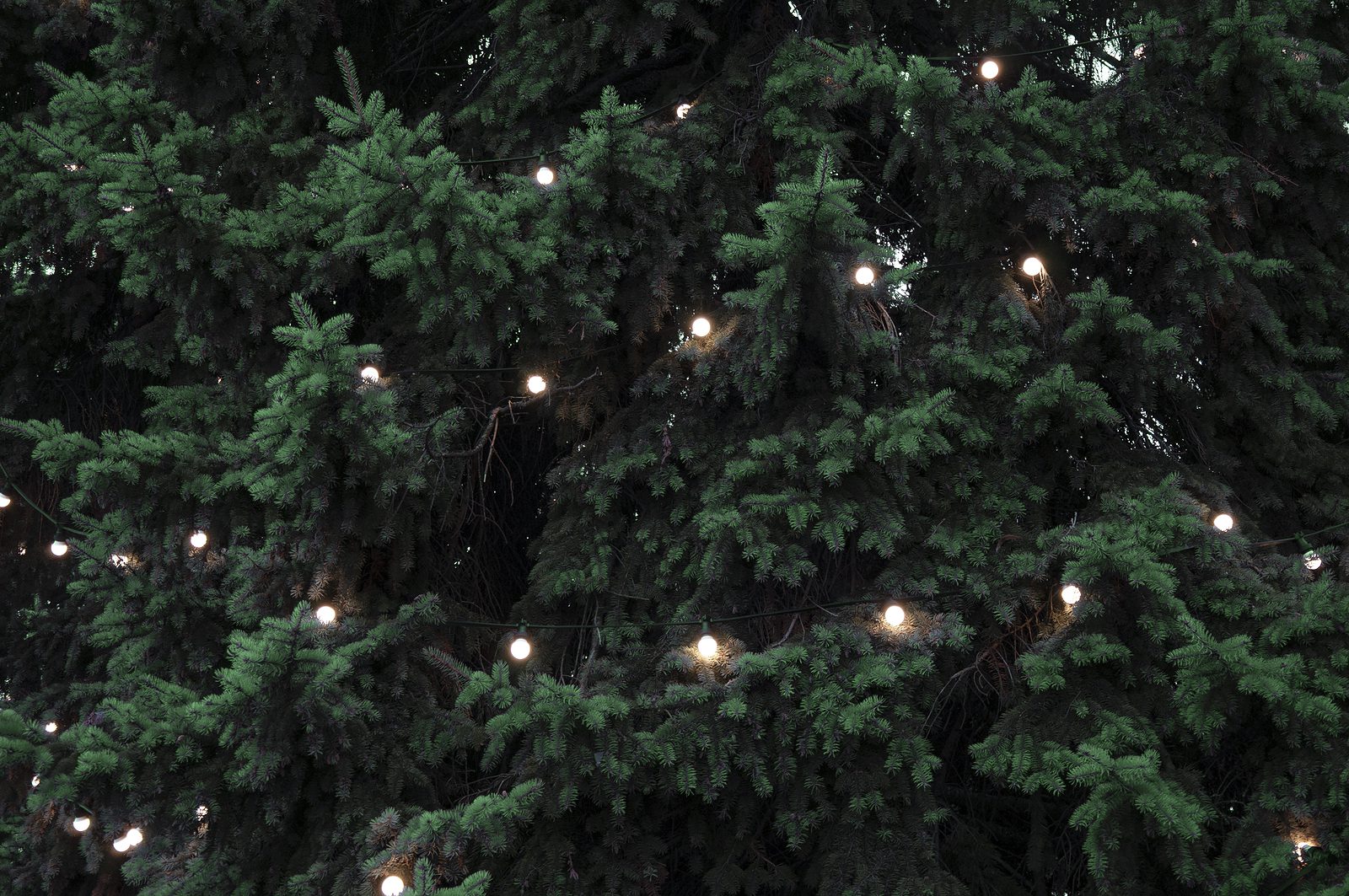 7. Black trees
Something that we haven't seen much of before but has emerged from the back end of Halloween and crept into the Christmas period is black trees. These trees are deep, dark, and dramatic, and are giving incredible vibes when decorated with shimmering silver and touches of pink. This trend is not for the faint of heart but is making a huge impression across Instagram, taking the platform by storm.
8. Wall trees
This one is an interesting option, and perfect for those who either struggle with space or find that their trees end up getting pulled down by young children or over-excited pets during the night! They open opportunities for you to get creative, so whether you decide to buy a hanging tree or decide to give it a go and make your own, these have a charming effect without taking up much space! They are also a great choice for minimalist homes who are keen to get into the Christmas spirit.
We've been discussing the question of when Christmas decorations should go up, and we've had a massive variety of answers across the board. In a typical year, the general agreement was the weekend closest to the 1st of December, to then take them down around the 5th of January, after the New Year festivities have ended and things return to normal. However, with 2020 being such a strange year with the pandemic and so many of us in lockdown for much of the year, homeowners were seen putting Christmas decorations up as early as the start of November, wanting to bring some cheer into their homes and fight off the misery that the early nights were bringing in as we went into a month-long lockdown.
While Christmas this year is like no other, we're all doing what we can to make it a Christmas to remember, and these trends are definitely going to stick in our minds!
How do I sell my house fast?
If you're looking for an easy sale in the run-up to Christmas, we can help. We Buy Any House can give you a fast, hassle-free sale in as little as 7 days, get in touch for your free cash offer today!
Back to all articles
You may also be interested in