06, June, 2023
How to get your full deposit back when moving out
We Buy Any House
Like you, every property is unique, so we'll just need a few details before we can make you an offer.
How can I get my full deposit back when moving out of rented accommodation?
There are several steps that you can take when moving out of a rented property to help make sure you get your full deposit back.
1. Deep clean
2. Make a plan
3. Hire help
4. Before and after photos
5. Read your tenancy agreement properly
6. If your deposit is not returned in full, ask why.
At one point or another, most of us have lived in rented accommodation and run the risk of losing some of our deposit. Moving out of a property and trying to leave it in the best possible condition will often mean a huge amount of cleaning and possibly repairing any damage done throughout the tenancy. A lot of tenants miss little things that affect their deposit, which is why we've compiled some ways to help you have the best chance of receiving your full deposit when you move out.
1. Deep clean
Make sure that you get all of the hard-to-reach areas that you might miss when cleaning regularly. Wipe down any dust on skirting boards, remove cobwebs from corners of the rooms, and don't forget to spend extra time in the bathroom cleaning behind the toilet and cleaning the oven! Two jobs that are no-one's favourite, but are the first areas a landlord will look when inspecting the property after you've moved out. Where possible, clean room by room in the week before you move out, and in order of the rooms you use least. This way, you can just keep on top of any mess you do make and save yourself having to clean multiple times.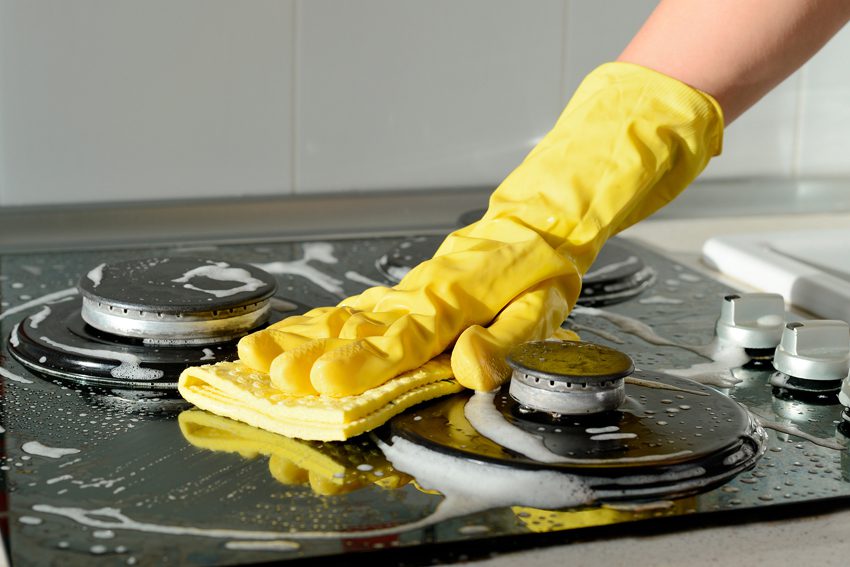 2. Make a plan
One of the most common reasons tenants lose out on their deposits when the house isn't left clean is down to bad planning. Once you've got your moving date, make sure you plan out when you're going to clean. If you're sharing a house with other people, split the jobs and confirm everyone knows what they're doing so nothing gets missed. If possible, try and clean as you pack to make the most of your time. If you've caused any damage in the property, if you're able to repair it do so, but you may need to speak to your landlord and make them aware of the issue straight away rather than leaving it for them to find once you've moved out.
3. Hire help
Sometimes, it's just easier to hire a cleaner to make sure that the property is left in the best condition possible when your landlord checks it after you've moved out. There are all sorts of cleaning companies that will cover this sort of work, and some will offer end of tenancy packages, so you don't have to worry about doing any of the cleaning before you go.
4. Before and after photos
When you moved into the property, your landlord will usually have taken photos of the property and its condition, including any issues that were there before you moved in. This could include cracks in the walls and ceilings, scuffs to the floor or walls, or any damage to furniture if you're living somewhere furnished. To cover your back, it's a good idea to take photos of any damage you see in the first day or two when you move in, so there is no way that your landlord can try to pin the blame on you when you move. As you move out, take photos of each room as well so you can prove the condition that the property was left in; this makes sure that anything that happens after you hand in your keys is not your responsibility.
One of the biggest pieces of advice that you have to follow is to make sure that you keep all of the documents. Whether these are copies of the original or even pictures, it is always best to have evidence of a signed contract. While this sounds very cynical, a bad landlord could have all kinds of trick up their sleeves. – Aaron Cambden, Director, Fairview Estates
5. Read your tenancy agreement properly.
We're all guilty of signing something without reading it in detail, especially when there are pages and pages of small print that doesn't seem too important. This is not the case when you sign a tenancy agreement – make sure that you read it in full more than once, so you know exactly where you stand and what your landlords' rules are. Every landlord will have slightly different rules for their properties; some will be more lenient, some stricter. Make sure you know what is and isn't allowed in your property, and look out for any penalties for paying your rent late. Some landlords will have a fee in place that will increase each day your rent is late, and if this is the case you want to be aware of it. These fees can build up very quickly and cause you more issues, so knowing what the rules and expectations are will help you avoid further distress.
6. If you don't get your deposit back in full – ask!
Your landlord should have registered your deposit in a deposit protection scheme when you moved into the property. They can choose to refund your deposit in full, or keep some of it and partially refund it. If they have partially refunded your deposit, they should provide you with information about the damage they have found that justifies the amount of your deposit they have kept. If you don't feel that these reasons are valid, you can report it to the deposit protection scheme and ask for proof of the damage and cost of the repair. Usually, speaking to your landlord can avoid this as it can be a long process, but if your landlord isn't willing to cooperate, you do have options to claim your deposit back.
Most importantly-
Be open and honest with your landlord. If something gets broken, tell them straight away so they can arrange it being fixed properly and avoid any potential further damage. Landlords would always prefer to know if there are issues in the house and be able to get it resolved quickly. General wear and tear is normal, and landlords should not hold any of your deposit to cover wear and tear of walls or carpets.
Making sure you take every precaution you can to get your full deposit back can be easy if you plan and take care of the property throughout your time living there. Try not to leave your cleaning until the last day, get into all those often-forgotten spaces and leave it in the same condition or better as you found it!
If you're looking for a quick house sale, you're in the right place. We Buy Any House can get you a free cash offer on your property and show you how you can have your house sold in as little as 7 days. If you want a quick house sale, get in touch with us today.
Back to all articles
You may also be interested in