06, June, 2023
Will buying a repossessed house save you money?
We Buy Any House
Like you, every property is unique, so we'll just need a few details before we can make you an offer.
Will buying a repossessed house save you money?
Sometimes, buying a repossessed house will mean you spend less, but you may have to spend more renovating or redecorating.
If you've been looking into buying a repossessed house to save you money, then you've probably heard that it's cheaper than buying a standard house. We at We Buy Any House have gathered some information for you so you can decide if it is cheaper or not.
The short answer is that it depends on several factors, the first of which is how the lender wants to sell the property. All mortgage lenders are legally obliged to get the best price that they can for a property, but it's unlikely that they will prepare the house for any viewings. Lenders tend to want to sell the property as quickly as they can, so they will tend to price them below the market rate and have them available immediately. Because of this, repossessed properties tend to sell for up to 30% less than they would be expected to if they were sold privately.
What do I need to do in advance?
You'll want to have a mortgage agreement in place before you've made an offer on a repossessed property, as the process tends to move faster. Something that does usually cause worries for buyers looking at repossessed properties is that the house will stay on the market up until the sale is complete, leaving the property open for other buyers to make a higher offer and resulting in you losing the property. This isn't uncommon, so it's worth being prepared to make a higher offer if you really want the property and someone has offered higher than your original offer.
It's also often recommended not to be part of a chain if you're looking to buy a repossessed property as it's faster not having to rely on another buyer. If you're interested in a repossessed property but are struggling to sell your current house, visit We Buy Any House and see what they could offer you for your house today.
Are there implications?
There can often be implications to buying a repossessed house, the most common being-
They're often left in a poor condition
Unexpected hidden costs
Potential to be outbid
What should I look out for?
If you are successful in buying a repossessed property, it's important to check your credit score regularly for the first few months to ensure any debt associated with the house doesn't get connected to you. If it does, it isn't a big worry, you'll just need to contact the lender and make them aware you're the new owner. It's easy to clear up but can also be easy to miss, so it's worth keeping an eye out.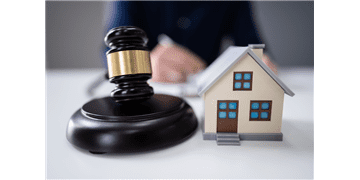 You should also try and get a surveyor in the property to ensure there are no issues. It's very important to remember that whilst the house may have a very low asking price if there is a lot of work that needs doing to get it up to regulation, you may be better off buying a slightly more expensive house that doesn't require the extra work.
Overall, buying repossessed property can work out cheaper providing you do your research and know exactly what you're getting. Remember not to be swayed by a low asking price as it could require a huge amount of work to make it livable, so you should always factor that in.
We buy any home in as little as 7 days, or timescales to suit you. Head to our website for more information.
Back to all articles
You may also be interested in