06, June, 2023
Can siblings force the sale of an inherited property?
We Buy Any House
Like you, every property is unique, so we'll just need a few details before we can make you an offer.
Can siblings force the sale of an inherited property?
No. All of the inheritors of the house will need to agree before a sale goes ahead.
One of the biggest questions around inheriting property with a sibling is if a sale can be forced. The short answer is no; if more than one person has inherited shares, then any sale must have all shareholder's consent.
So how do we deal with an inherited house?
An ideal world would see issues of inheritance solved simply and quickly. However, when it comes to inheriting a house with a sibling, things can become complicated. If people's personal circumstances and viewpoints are very different even close siblings may find themselves butting heads.
Multiple siblings frequently inherit a house after the passing of a remaining parent. In a situation like this where the home is vacant, it's common to sell the house and split the money. Alternative suggestions might include renting the house out and sharing the rental income, and those who have inherited property often choose to rent it out to family members. This avoids additional costs of using estate agents and establishing a more formal arrangement.
Can one sibling force the sale?
Regardless as to whether one or more siblings want to keep or sell the house, no one person can force the sale, everyone has to agree. In theory, anyone can sell their own share of the house, but they would be very unlikely to find a buyer willing to invest in just one portion of a house, especially if the majority is owned by disagreeing brothers and sisters.
What if I want to keep the house?
If you want to keep the property but your sibling or siblings wish to sell, they can ask for a court to issue an order to sell. To do this, the sibling must write to everyone else who owns a share of the house via a solicitor, setting out a strong case for why they wish to sell. This process gives the other siblings the chance to discuss and dispute the sale.
With cases like this, the sibling who wants to sell would have to make a very compelling argument for the law to go in their favour. However, you need to look into what happens if you inherit a house with a mortgage, as this can affect the process.
How can we share ownership of the house?
The situation can be resolved by siblings agreeing to hold onto a house. In this scenario there are two ways in which you can own it together:
If you are joint tenants, all siblings have equal rights to the entire house and if any sibling dies, their share passes to the other joint tenants. This means that only the final surviving brother or sister can make a provision in their will to leave the property to someone.
If siblings decide to become tenants in common, each sibling will own a defined portion of the house.
Alternatively, if all siblings agree that the house should be sold, then the income made from the sale should be divided between them based on the percentage they own.
I live in the house we've inherited, what happens next?
In cases where a sibling actually lives in the house you've inherited, the situation is more complex; but again, nobody can force a sale. The sibling who lives in the house has the right to remain there but so do the others who've inherited it. Someone can be forced to leave a house via a court exclusion order but this is a very severe path to take – and you would have to give a very compelling reason for the person to be removed. You and your other siblings wishing to sell is not a good enough reason, and there would have to be evidence of serious incidents. If you do come to an agreement to sell, you will need to take several things into account, such as the cost of selling and how these fees will be paid.
When selling an inherited property, there's a chance you may have to pay Inheritance Tax along with other potential taxes. Our tax calculator provides you with a quick and easy way to find out.
If you're looking to sell a property that you've inherited recently and want it dealt with quickly and easily, contact us at We Buy Any House for your free offer today.
When you inherited you may have been wondering, how long does probate take? We've outlined the process so you can know everything you need to, easing your mind in a stressful time.
We buy any home in as little as 3 days, or timescales to suit you. Head to our website for more information.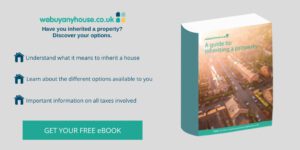 Back to all articles
You may also be interested in