06, June, 2023
What are my options if the property chain collapses?
We Buy Any House
Like you, every property is unique, so we'll just need a few details before we can make you an offer.
What do I do if my property chain breaks?
You can either –
1. Talk to your estate agent and try to fix the chain.
2. If your sell pulls out, you can still sell your house but rent until you find somewhere else to buy.
3. Sell to a quick-buying company.
4. Look at a bridging loan.
5. Recover any costs you can.
In 2020, almost a third house sales collapsed. Buyers that were struggling with their finances, sellers that were unable to find new houses, or someone in a chain getting cold feet were just a few of the reasons why. Though being in these situations can seem like the end of the world, there are various options available to you to let you save your chain.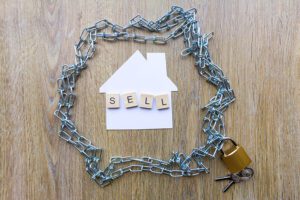 Option 1: Contact your estate agent ASAP
If the seller pulls out, it may be because they were offered a higher price from another buyer, they have issues with their chain, or simply because they've decided not to sell for their own reasons. Your estate agent could discover the new asking price and be able to make a higher offer on your behalf that can save the sale, providing it's still in your budget – but it needs to happen immediatly to be in with a chance of securing the house.
If the buyer pulls out before contracts are exchanged, it is perfectly legal. If this occurs after the exchange, you could take the buyer to court, allowing you to gain compensation that could go toward a new house. Your estate agent could also discover the reasons why the buyer pulled out, and help you come up with suitable solutions (e.g. in cases where reasons involve home improvements).
Where the buyer pulls out because they can no longer afford the house, or they offer a reduced amount (gazundering), you could lower the asking price or open a negotiation if you really want to save the sale. If they generally want the house, they won't want to lose it, especially if they are in a chain themselves and you may be able to come up with a compromise that satisfies both sides. Alternatively, you could try a slightly lower offer and attach a contingency clause (for example, the buyer has a certain amount of time to respond until the offer expires). Putting the house back on the market is also another option. If the house you want to buy falls through there could be similar and nearby houses available, or your estate agent may know of properties that have yet to be advertised, you could end up with an even better house that you didn't get to see previously.
Option 2: Move into rented accommodation
Though a seller pulling out can cause frustration and irritation, it could turn out for the best. Where your house has been sold, but the house you wanted to buy is no longer available, moving into rented accommodation or in with friends or family can put you in a brilliant position. When you find another house you like, it will appeal to the seller that you won't be waiting on the sale of your house to make a purchase, preventing another chain. This makes you a 'hot buyer' and will have buyers much keener on you. As stated in our previous post, 'Renting and the Property Chain' chain-free buyers tend to receive a 1.3% greater discount on average than buyers still stuck in chains.
Option 3: Sell to a house buying company
In cases where you've bought your new house, but the buyer of your old house pulls out, you could sell the latter to a company such as webuyanyhouse.co.uk. We can make you a free cash offer and get things moving quickly for you, letting you sell in as little as 3 days. Where the only alternative may be putting the house back on the market, this is a cheaper, quicker, and less stressful option.
Option 4: Consider taking out a bridge loan
You could instead take out a bridge loan so that you can afford both your old and new houses. Bridge loans bridge the gap between buying your new house and selling your old one and is a good way to ensure you don't lose out on the house you want. They can, however, be expensive. See our previous post, 'The Property Chain – A Quick Guide' for more detail.
Option 5: Recovering costs
Where the seller changes their mind or receives a higher offer (gazumping), you could recover your costs through fee insurance or Home Buyers' Protection Insurance. This allows you to reclaim money spent on conveyancing, home surveys and mortgage lender fees for example, which itself can be expensive. Of course, predicting whether your chain will break is impossible, but consider the loss if it does. Home Owners Alliance provides further detail on the benefits.
A successful property chain can sometimes seem like an impossible dream, but the reality, even when things do go wrong is fixable and can even turn out for the best in some cases. As everyone's situation is different, thoroughly research your options, discuss them with your solicitor and estate agent and ensure you feel comfortable with your final choice. If you're currently looking to sell your property quickly, contact us today at We Buy Any House for a free quote.
We buy any home in as little as 3 days, or timescales to suit you. Head to our website for more information.
Back to all articles
You may also be interested in