06, June, 2023
Can my ex make me sell the family house?
We Buy Any House
Like you, every property is unique, so we'll just need a few details before we can make you an offer.
Can my ex make me sell the family home?
No. If both of your names are on the deeds to the property, they cannot sell without your permission. If your name isn't on the deeds, you can apply for a Home Rights Notice so you can appeal and prevent your ex-partner selling without your consent. If you're not willing to sell, you may want to look at buying your ex out of their shares if you're able to.
During a divorce, one of the key concerns people have is whether an ex-partner can force the other to sell a house. The idea of being forced out of a house you've made your own, and had happy times in, is incredibly upsetting for most people.
My name is on the deeds, can my ex force the sale?
As with many things related to divorce, how much power your spouse has over what happens to the marital house depends on the intricacies of your relationship and whether you own the house jointly. Some houses will have both partners on the deeds, but in some cases the ownership of the house will lie with one partner, impacting the rights of the other once the relationship comes to a legal end. If both your name and your spouse's name are on the homeownership papers, your partner does not have any legal right to force you to sell the family house. However, if your spouse can prove that their money is tied up in property and they need to sell it to open a flow of cash to live, this could change.
There are children in the house, does that protect me?
If you are residing in the house and there are children present, your spouse will have to demonstrate a very good reason for them needing to sell the home. Specific rules around this depend on the age of your children – if any of your children are under the age of 18, a spouse is prevented from selling the house in some cases. In some marriages, the family house is owned by one partner – everything is in their name. However, while the Land Registry may state that one person is the sole owner of the property, being married creates certain obligations between two people. Even if a property is owned by one person, being married means their spouse has the legal right to remain in the property while they are legally married. Once a divorce has been finalised, however, this right is invalid (find out more about how your house is divided after divorce here).
Can I take legal action to prevent a sale?
To protect yourself against your ex deciding to sell your house, you should seek a Notice of Home Rights against the property. This prevents a spouse from selling a property while the marriage is still in place, regardless of whether or not both partners own equal parts of the house or one has complete ownership. Remember that if your spouse owns your house this protection is only afforded to you while you are still legally married – as soon as your divorce is final, the protection no longer applies.
What happens once we divorce?
Once a divorce has been finalised, there are a variety of options. One spouse could buy out another, and keep the house, or the property could be sold and any proceeds from it divided between the pair. If you're looking to sell your property quickly, visit We Buy Any House today for a free quote.
We buy any home in as little as 3 days, or timescales to suit you. Head to our website for more information.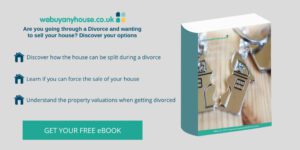 Back to all articles
You may also be interested in