06, June, 2023
Change of Address Checklist
We Buy Any House
Like you, every property is unique, so we'll just need a few details before we can make you an offer.
Change of Address Checklist
1. Vehicle
2. Healthcare
3. Insurance
4. TV, Internet, Phone
5. Employment/Taxes
6. Money
7. Local Authorities
8. Utilities
9. Subscriptions
Moving house can be a very stressful time, with lots to do and plenty of essential tasks slipping through the cracks. A vital job – one that more and more people forget to do when they move – is updating your address. We know how easy it is to lose track of who you need to let know, so We Buy Any House have made a handy checklist to make sure that you don't miss anyone off the list!
Why do I have to change my address?
Changing your address is more important than just letting people know that you've moved. It also:
Ensures that you will still receive any mail that you might not be expecting
Helps to prevent identity fraud, stopping your mail going to someone else who is now living in your old property
May affect your insurance. If you don't update your car insurance address and you get into an accident, for example, your insurance provider could declare your insurance invalid
Prevents you being attached to previous addresses where you could be held financially responsible for bills
Means you receive any vouchers that you may be entitled to.
Can I get my post redirected if I forget to notify someone?
A popular way to make sure that you don't miss out on any of your mail is the Royal Mail Redirection Service. You can sign up to this for 3, 6, or 12 months, and have any post redirected to your new address. This costs from £31.99, and is very simple to set up – you need the names and the dates of birth of those who need their mail redirected, their previous address and their new address. This can be done up to 3 months in advance of moving, or up to 6 months after you have moved.
When do I notify my utility providers?
You can let your utility providers know that you're planning to move around a month before your moving day. What you should do on the day that you leave the property is take final meter readings and send them to your provider, to make sure that you're not charged for any usage after you've left. Depending on where you're moving, you can use this opportunity to not only notify the providers that you're going but if they are your provider in your new property, update your address with them. This saves you a job once you're moved into the property, and can keep things simple for you.
Who do I need to notify that I'm moving?
The best way to make sure you've notified everyone that you need to is to break it down into different sections of your life. We've looked at: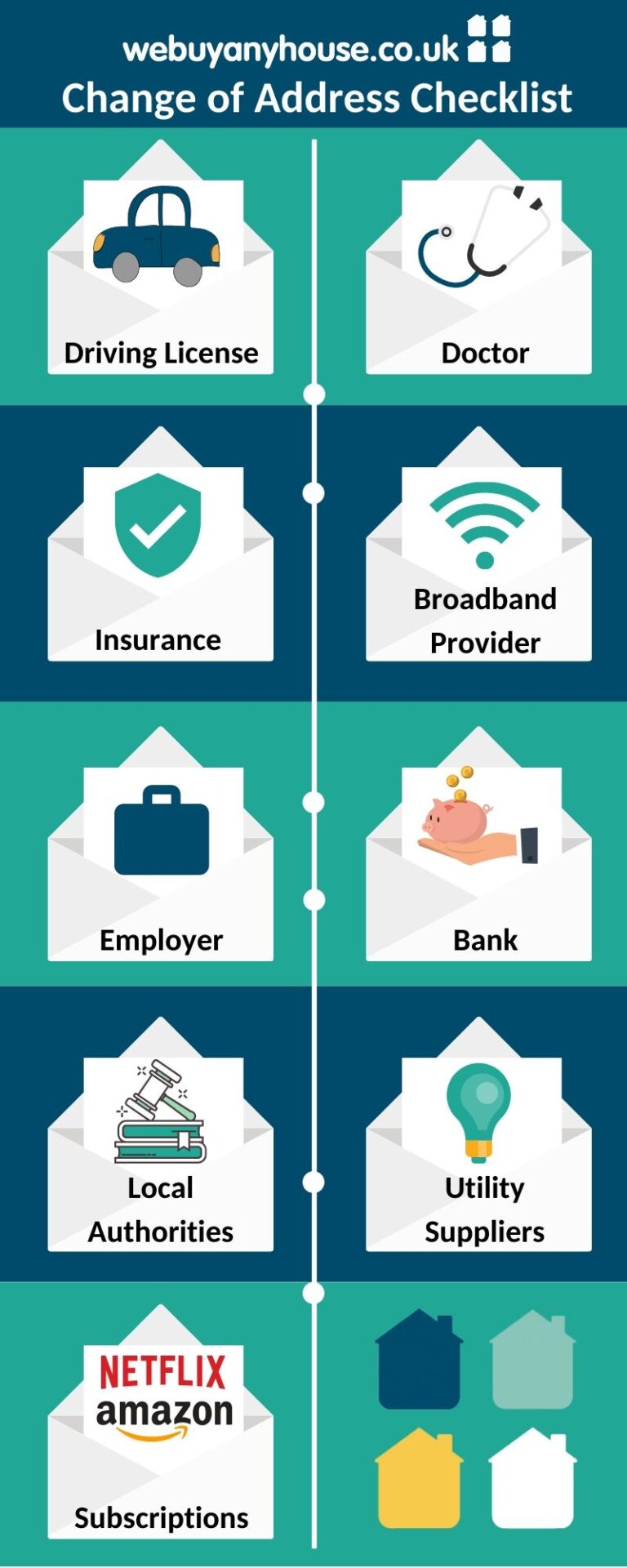 1. Vehicle
There are a few providers that you may need to reach out to that fall under your vehicle information. The top two are your car insurance and your driving license. To change your car insurance, you can call your insurance provider and let them know that you'll be moving. You can provide them with your new address, and the date that you're moving, so they can update your policy on the day and make sure that you're covered. You should be aware that depending on where you're moving from and to, your insurance cost may change- it can go up, but it may also go down, meaning you can be reimbursed if you've paid upfront for the year.
To change your driving license, you can fill out an online form. You'll need to send back your old license when your new one arrives with your updated address on.
You will also want to change your address on your V5 vehicle logbook, which you can do online, and the direct debit for your vehicle tax if you pay it monthly.
2. Healthcare
Many people forget about healthcare, as it tends to only come to mind when you're not well. Doing things in advance means that if you do fall ill, you don't need to worry about registering and having to wait to see someone if you need it.
You will want to update your address with the NHS as soon as you know you're moving, especially if you have a long-term condition. This makes sure that there are no issues with collecting prescriptions or receiving information over the phone with security checks.
3. Insurance
This can range depending on what sort of insurance you have. Still, things like home insurance, content insurance, health insurance, even pet insurance, should all be updated when you move. This makes sure that if you do have any issues and need to put a claim in, you know that all of your details are up to date and that you won't run into any problems. Again, it's key to remember that your insurance prices may go up or down depending on where you live.
4. Internet, TV, phone
Updating your TV and broadband will make sure that you are all set up when you move, and don't have to wait to be able to access the internet. Usually, you're able to let them know in advance and arrange a date for them to come and install a router on a day that suits you once you're moved in. If you have a landline, you can look at taking the same number depending on where you're moving to. You should also make sure to change your address with the TV Licensing, to ensure your name doesn't get attached to a property that doesn't have a license but is watching TV. You can do this online.
5. Employment/Tax
You should notify your employer of your new address as soon as you have a moving date, as they will need correct contact information for their records to prevent any issues with payment. You should also update HMRC, to make sure your personal tax records are updated. If you're making student loan repayments, you can also update your address for this through HMRC.
6. Money
Updating your bank that your address has changed is one of the first things that you should do when moving. It helps protect against identity theft, fraud, and keeps your money safe.
If you have premium bonds, you should change the address on your account for them as well, to make sure that you don't lose out if you are due any winnings.
If you've taken out any loans or credit cards, you need to change these addresses as soon as you move too. Any issues with payment could cause damage to your credit file. If your lender can't get hold of you as they have the wrong address, you could find yourself in a challenging position.
7. Local Authorities
You'll likely receive a letter asking you to do this, but it's always helpful to get it done ahead of that. Changing your address and registering on the electoral roll will ensure that you have no problems in upcoming elections, and allow you to exercise your right to vote.
You should also ensure to let your local council know, as your council tax may change. If you don't pay this, you could end up being taken to court, so getting this done is very important.
8. Utilities
We've already covered some of what you need to know about notifying your utility provider, but make sure that you don't leave it off your list. Let your provider know that you're moving, and make sure you get set up in your new property from the date that you move in so you don't risk getting cut off. Make notes of your latest meter readings when you move out, and the meter readings of your new house on moving day, so you don't get back charged for previous usage before you moved in.
9. Subscriptions
These aren't as vital but are still key to get changed. Whatever subscriptions you have, whether it be for your gym membership, your Netflix account, Amazon Prime or monthly gift boxes, make sure that you update them, so you don't miss out on what you're paying for. Most of these you can do on the website that you subscribe to.
Moving is a lot of work, and adding to the seemingly never-ending list of things to do can be irritating. However, changing your address is a crucial part of moving, and it will only be you that is faced with issues if you don't do so. We hope that by creating this list, we can help you remember everything that you need to change, and see your move a little smoother.
We buy any home in as little as 7 days, or timescales to suit you. Head to our website for more information.
Back to all articles
You may also be interested in