06, June, 2023
Hidden problems that can hamper house sales
We Buy Any House
Like you, every property is unique, so we'll just need a few details before we can make you an offer.
What hidden problems can hamper my house sale?
1. Damp
2. Structural problems
3. Location issues
4. Japanese knotweed
When selling your house, the property survey is a key part of the process that's necessary for you to make a sale. It involves a professional surveyor visiting your property to assess potential issues that a homebuyer should be made aware of before contracts are signed and keys exchanged. But what are the main issues that a surveyor can uncover in a property, and how much of an impact can they have on you successfully selling your home?
Damp
There are different types of damp but the most common is condensation damp, generally caused by moist air getting trapped within a property and condensing on walls. This is particularly common in rooms with a lot of moisture, like bathrooms and kitchens. It can cause water damage and unsightly dark mould to appear on walls and around windows. It can also give off an unpleasant smell. If left untreated some cases of damp like penetrating damp – caused by water leaking through walls – can result in long-lasting (and costly) structural damage. This can require a lengthy process of treatment and repair, involving walls being stripped back to brick, chemically treated, and then replastered. Not only is the presence of damp off-putting to a potential buyer, but the damage it can cause and the cost to treat it can also be a big turn-off too. Waiting for an expert to complete damp treatment, and for the plaster to dry in order to redecorate, can also be detrimental to how you stage your home to potential buyers.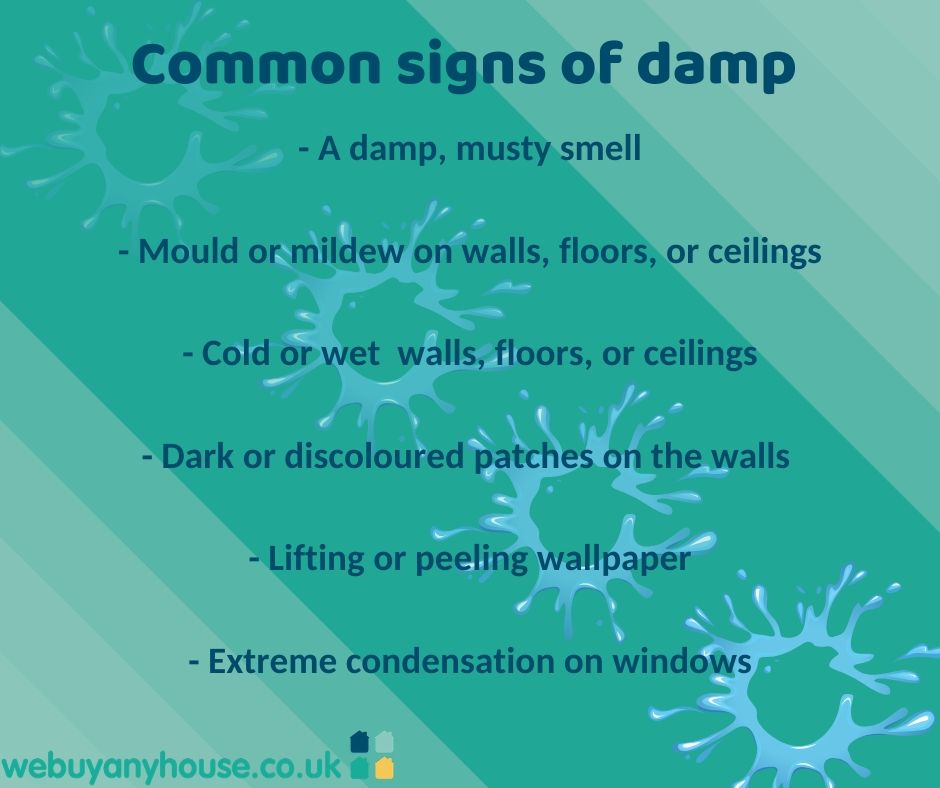 Structural problems
Problems discovered in a property's structure following a survey can put off a potential buyer. They raise issues of safety, as well as the implications of the work, time, and money needed to fix the damage. Cracked foundations, poor insulation, and rotting window frames are all structural-related problems that cost a sizeable amount to fix, depending on the scope and severity of the problem. From your point of view, the seller, leaving these problems unresolved makes the chances of securing a quick sale at a good price much slimmer. It's worth pointing out that when a potential buyer considers buying a property they are also buying into a lifestyle and the idea of life within that house. As a house seller, you want to keep that dream alive for them after a survey has been completed. So, it's wise to fix any structural problems you're aware of as soon as possible when preparing to sell your house. Houses with fewer issues and strong survey results will often sell for closer to their desired price.
Location issues
It might not be your property that is the issue. The location and surrounding area can hamper a house sale too. If you're confident there's nothing wrong with your property, it might be worth doing a check of the surrounding area. Perhaps there's some long-term building work about to start in the area. Maybe the wide-open fields nearby, which make for a great selling point, are destined to be converted into a new housing development. Or perhaps plans are underway to build a busy dual carriageway close by. If you're struggling to sell your house, it can be entirely possible that something nearby is putting off potential buyers. Noise pollution from a nearby motorway, or railway, or the property is located close to a fast-flowing river and flood plain could stop your sale. Discussing this with your estate agent and trying to work out an appropriate solution, like reducing the asking price, can help. It can also relieve any concerns or worries you might have about your property not selling.
Japanese knotweed
We've covered the menace of Japanese knotweed before; the plant can cause serious structural damage and, unless removed by a professional, can become a recurring problem. In fact, Japanese knotweed can be so severe it can cause legal problems, such as you being charged as a nuisance if you fail to control it and it spreads to other properties. Having it show up on your survey can prevent your house from being sold due to the costs and work that buyer would have to consider to deal with the weed. Japanese knotweed, damp, and structural damage showing up on your property survey can all have an impact on how long it takes to sell your house. This is mainly because of the money the buyer would have to spend to fix them. They can also damage the impression your property makes during a viewing, putting off potential buyers as they look round your house. The best way to avoid such property issues stopping your house from selling is to rectify the problem before you put your house on the market. To find out more about the process involved in successfully completing a house sale, take a look at our blog post about how to speed up your conveyancing. Alternatively, give us a call to speak to our dedicated team at We Buy Any House and see how we can help.
Back to all articles
You may also be interested in