06, June, 2023
How can I get my house ready for sale?
We Buy Any House
Like you, every property is unique, so we'll just need a few details before we can make you an offer.
How can I get my house ready for sale?
There are plenty of ways that you can make sure your house is ready for sale, including;
1. Deep clean
2. Repair any issues
3. Declutter
4. Neutralise colours
5. Keep it fresh.
Now the lockdown is easing, more homeowners are starting to look at selling their house. For some, it's continuing the process that they started before the lockdown and had to pause, but for others, they've spent so much time in their house over the past four months that they're ready for a change. Whatever the reason for your sale, We Buy Any House have outlined how you can get your house sale-ready.
Do I have to make changes to my house to get it ready to sell?
Depending on how you're choosing to sell your house will make a big difference in how much work you might want to put into your house before selling. If you're choosing to sell traditionally, on the open market through an estate agent, it's recommended that you do make some changes to your house to entice viewers and avoid any issues when they come to see the house. The most common advice you'll get is to redecorate to freshen the house up, but if you're not selling through an estate agent, you might find you don't need to do this. If you don't want to redecorate and put money into the house before selling, you can use companies like We Buy Any House, that will buy a house in any condition. This means minimal effort on your part, with a quick and easy sale.
What if I don't want to make changes?
If you're not looking to sell on the open market, this probably won't be too big of an issue. However, if you want to sell through an estate agent, you may find that your house gets overlooked if other properties are similar to yours that look to be in a better condition because it's recently been decorated. This can lead to your house being sat on the market for longer, meaning you could end up having to reduce your price to achieve a sale. When thinking about selling your house, take some time to decide what you want to achieve. If you want a fast sale with little hassle, a quick-buying company could be the perfect solution for you. If you prefer to sell on the open market, however, you will probably need to consider making some changes to get your house ready for viewing.
What changes should I make to help achieve a sale?
There are several changes that are recommended to increase your chances of selling your house, and we've made a list of the most popular and successful ones for you to put into place before you put your house on the market.
1. Squeaky clean!
While this one might seem a bit obvious, some homeowners don't think about it, and it could be the make or break of achieving a sale. Before you have your property photographed for your listing, take some time to clean the property top to bottom and make sure it looks its best. Bad listing photos will put buyers off, so taking some time to get the best photos possible will increase your chances of selling. If you don't do this, your house will look worse compared to similar styled houses that have made sure to put in this effort and will mean that less potential buyers look at your property.
2. Repair any issues
Most houses have little issues that we put off fixing, but these problems will stick out when your potential buyers come to view. If you've been meaning to fix a broken door, or fill in a cracked wall, do this before putting your house on the market. Even superficial damage will tend to put buyers off, as they will start to question what other issues could be hiding in the house. Go round each room and make sure any problems are fixed, however small. It will reassure your viewers and encourage them to pursue your property.
3. Declutter
Similar to cleaning the house before you have your listing photos taken and you arrange viewings, do what you can to declutter too. Decluttering is a great way to make your house look more welcoming, and will also help to make rooms look bigger, which will entice any viewer. It's also a great way to get you ready to move out; no one wants to move unnecessary items or things that they plan on throwing away once they start unpacking in a new house, so this gets you one step ahead. Focus on places like your kitchen, bathroom, and any tables – these are the places that tend to get cluttered more easily. If you're not prepared to throw things away, putting them out of sight is just as good an option. Both will result in your house looking clean and spacious and give your viewers a better chance of imagining living in the house with their own belongings.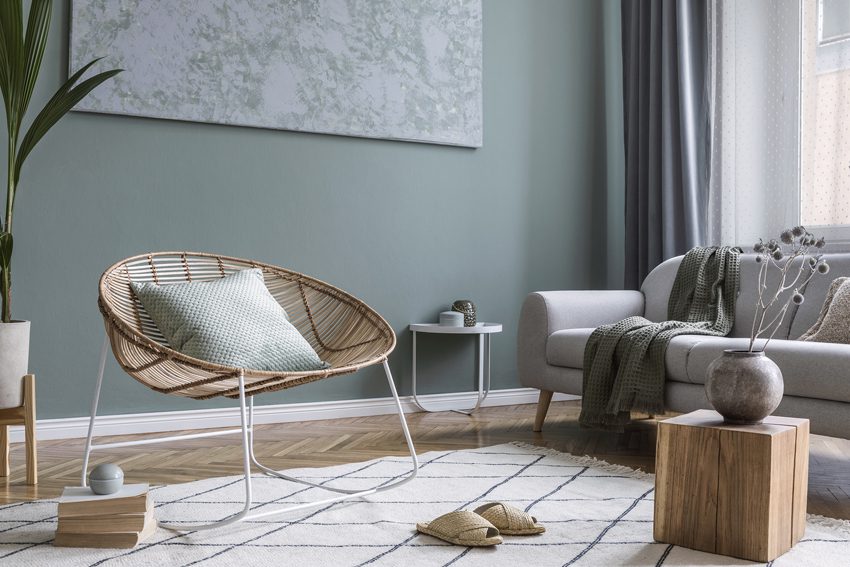 4. Neutralise
Redecorating an older house is recommended, especially if there's lots of bright, somewhat garish wallpaper that could put viewers off. When you redecorate, it's best to stick to neutral colours, as these will make the rooms look bigger and act as a blank canvas for your viewers. Some viewers will be able to look past it, but not all will, so if you have any very bright or very dark walls in colours that could clash with furniture, redecorating them is a good idea. Neutral colours very rarely clash with others, so it means that any colour scheme that your viewers might have should work well in your house.
5. Keep it fresh
When asking potential buyers what puts them off when viewing a house, one of the top answers was bad smells. This could be anything from stale air to a touch of damp, to pets in the house. This is a really easy issue to avoid. You can light candles before your viewings, have air fresheners in different rooms, or open windows to get good circulation. A popular estate agent trick is to put some vanilla essence in the oven on low for half an hour before your viewings. This will make the house smell almost like a bakery and is an incredibly homely and welcoming smell for your potential viewers when they enter your house for the first time. Keep in mind, even if you aren't aware of any smell in your house this could just be because you're used to your surroundings, but when someone new comes into the house, they will be hit with a variety of smells. Do what you can to make sure that those smells are fresh and enjoyable to help them feel comfortable at the viewing.
These tips will help you give your viewers the best possible experience when viewing your house, and raise the chance of them putting an offer in for your property. If you don't want to make these changes or aren't interested in selling on the open market, we're here to help. Get in touch with We Buy Any House today, and see how you can sell your house in as little as 7 days!
If you're looking for a quick house sale, you're in the right place. We Buy Any House can get you a free cash offer on your property and show you how you can have your house sold in as little as 7 days. If you want a quick house sale, get in touch with us today.
Back to all articles
You may also be interested in