06, June, 2023
Stop repossession and know your rights
We Buy Any House
Like you, every property is unique, so we'll just need a few details before we can make you an offer.
Do I have to go to court if my house is being repossessed?
You'll receive a court summons if your lender is moving to repossess your house. If you don't go, you don't have a chance to fight the order and could lose the house.
The big news announced recently is that one million homeowners with interest-only mortgages have made no arrangements for paying off their debt − this means nearly one in three people with such loans could see their home repossessed at the end of the term.
An interest-only mortgage gives the borrower lower monthly payments on their home loan as they only pay the interest each month. However, it means that the amount owed to the lender at the end of the mortgage term remains the same, as the homeowner is not actually paying back any debt. Before rules were tightened in 2013, millions took advantage of these mortgages.
Citizens Advice chief executive Gillian Guy said that it was a positive step that rules around interest-only mortgages had changed, but that many people had been forced into a financial black hole. The first step if you're in this situation is to seek independent advice and look to come up with a strategy to repay your debt. What happens if there's nothing you can do and you're facing repossession? Although it will feel like it, it's not the end of the world when you fall into mortgage arrears.
There is a way out – first, you look to renegotiate with your lender. If that fails you sell your house and use the equity to pay off your lender. Here's a breakdown of a repossession scenario and what you need to know.
Your legal rights
Your mortgage lender has written to you asking you to pay your mortgage arrears or to arrange to pay the arrears over a certain time period. Make sure you respond to this letter. If you don't respond, or they're not happy with your response, they'll write to you again warning you that you risk being taken to court − a Notice of Intended Prosecution. At this stage, you're likely to be able to come to an agreement with your lender – either to spread the cost of the arrears or if you cannot afford to do this, give you more time to sell your house for a realistic price. Before they can legally repossess your house your lender must follow certain rules.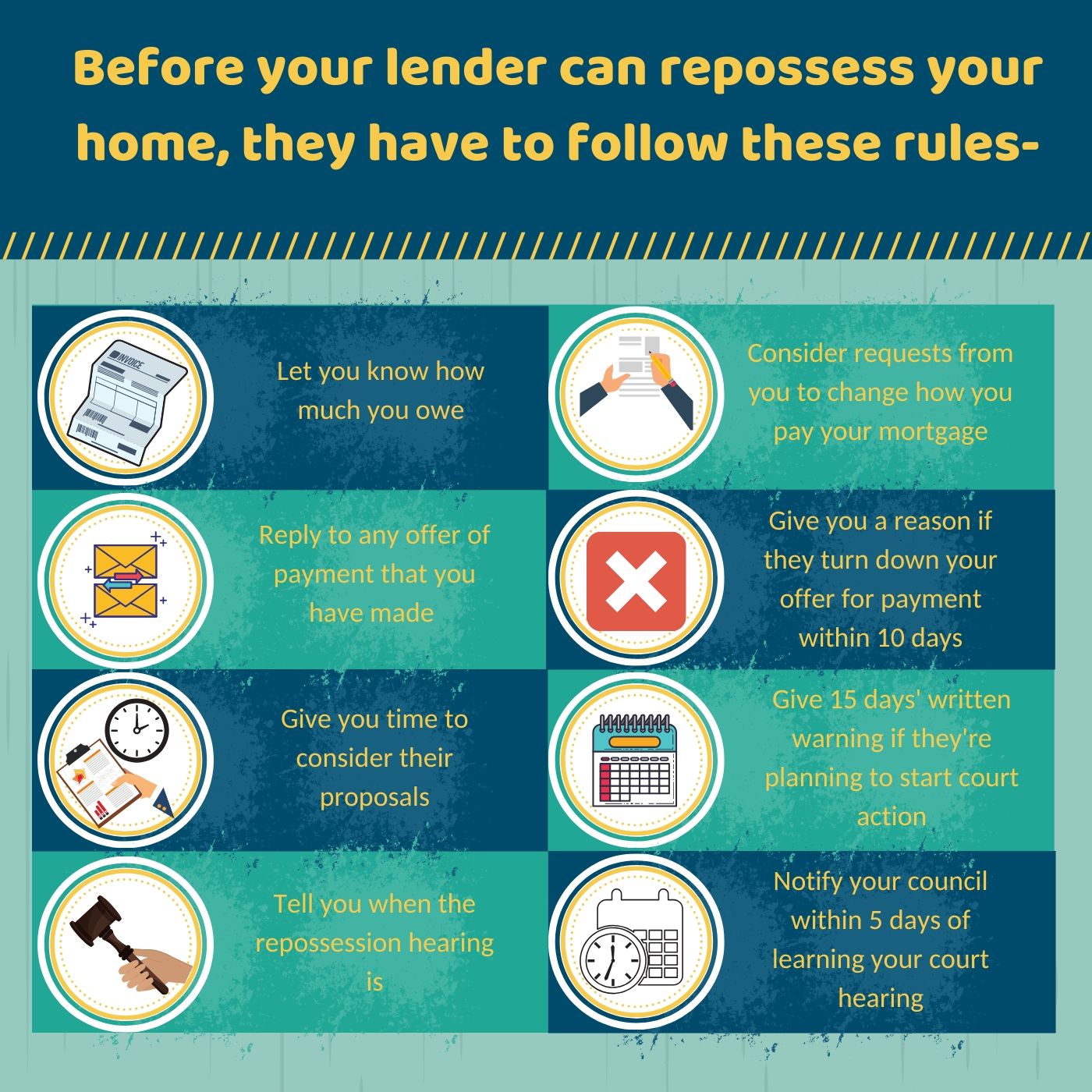 The Court summons
If your lender has made an application for possession, the court will write to you with the basic details of the claim and a date when the case will be heard in court. The letter will include a blank defence form. It's important that you complete and return this form. If you're in the process of selling your home to repay your mortgage, advise the courts of this – they may delay the court hearing. Near the time of the repossession hearing, you'll receive an 'Affidavit' – a legal document which contains all the details of the claim, the outstanding balance, payment details, interest rates and any terms and conditions. For more information, visit the HMCS website.
The Court hearing
Present at the repossession hearing will be the judge, the lenders' solicitor and you. The judge will listen to the evidence from the solicitor and you before making any decisions. You'll be given the chance to pay back the arrears or suggest an alternative way to repay your mortgage – for example selling your house quickly. The court views repossession as a last resort.
The repossession
If the court has ordered the repossession of your property, the court order will set a date for you to leave. If you don't leave by then, your lender will apply to the court for a bailiff's warrant. The bailiffs will write to tell you when the eviction is to take place, and when they come, they can physically remove you from your home − there's no negotiating with bailiffs.
If you're finding yourself in financial difficulty, selling your house could be a solution. For more information, contact We Buy Any House for a free offer on your property today.
We buy any home in as little as 7 days, or timescales to suit you. Head to our website for more information.
Back to all articles
You may also be interested in