06, June, 2023
Why do house sales fall through?
We Buy Any House
Like you, every property is unique, so we'll just need a few details before we can make you an offer.
Why do house sales fall through?
1. Buyers changing their mind
2. Higher offers before exchange of contracts
3. Buyers unable to secure a mortgage
4. Slow conveyancing
5. Survey revealing issues
6. Estate Agent issues
7. A break in the chain.
Possibly one of the most nerve-wracking aspects of selling or buying a house is the risk of the deal falling through, with a  record 30% of house sales fell through before completion. We Buy Any House look into the top causes of the problems resulting in sales falling through and how best to avoid these issues.
What are the top causes of sales falling through?
There are several reasons a house sale can fall through, but the most common ones are
A buyer changing their mind and backing out of the sale
A seller receiving a higher offer after a sale has been verbally agreed but before contracts are fully exchanged- also known as gazumping
A buyer unable to secure a mortgage for the property
Slow conveyancing putting potential buyers off if they're not willing to wait
Surveys revealing unexpected issues that will be lots of work to rectify
Real estate agent issues- this can be not chasing up paperwork or poor negotiating that can result in sales falling through
A buyer being unable to sell the house they're relying on to by another- a break in the chain.
How can I stop my sale from falling through?
While there isn't anything you can do to guarantee your sale won't fall through, there are steps that you can take to help secure your agreement and reduce the risk.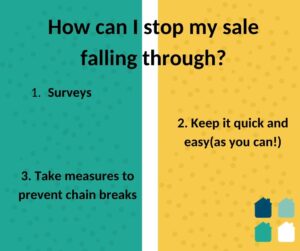 1. Surveys
Almost every buyer will want to have your house surveyed before they buy; which is a wise move. Surveys can uncover issues that aren't obvious in a property from standard viewings such as damp, subsidence, or Japanese knotweed, which can cause havoc for a homeowner. Making sure that you have had your house surveyed before will let you know if there are any potential issues to be aware of, rather than being caught out mid-sale. If you know that there is subsidence, you should be upfront with your buyer and reflect the issue in the price. Being honest about any issues or fixing them if possible before the sale can make a big difference and support your sale.
2. Quick and easy
Buying and selling a house is a lengthy process that you can't change overnight, but you can take certain action to keep things on track and prevent any delays. Using a reputable estate agent and a solicitor will help prevent any paperwork delays or negotiation problems, therefore reducing the risk of your buyer dropping out. If you're proactive, keeping in touch with your estate agent and solicitor and actively encouraging updates and time scales, it can help keep your sale on track and avoid the delays that often put buyers off a property.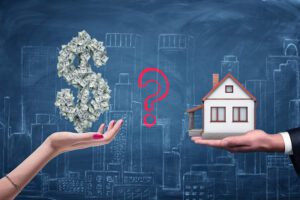 3. Chain breaks
There's nothing you can do to instantly fix a chain, and most of the time it isn't just you that is affected by this chain break. However, if you're willing to be flexible with time you could still save the break. If your buyer has dropped out because they have lost their buyer, you can agree with them a certain time scale for them to find a replacement before you start advertising your house again for sale. If your seller has lost their buyer, you can do the same; but you do run the risk of waiting for nothing.
It's also worth knowing that whilst it is an irritating and expensive situation to deal with, there are currently no laws in England and Wales from dropping out of an agreed sale before the contracts have been exchanged- which can take anything up to three months after the sale has been agreed. The government are, however, attempting to crack down on gazumpers; buyers who offer a slightly higher price than you've agreed to steal the sale.
Part of selling a house is the risk of it falling through. Thankfully, if you're looking for a quick sale that doesn't have this risk, you can come to us at We Buy Any House for a free offer on your property and see how we can help you secure your next house through the sale of this one.
Back to all articles
You may also be interested in