06, June, 2023
How can I create the best home office? 
We Buy Any House
Like you, every property is unique, so we'll just need a few details before we can make you an offer.
How can I create the best home office?
Working from home can be difficult when we're surrounded by distractions. Renovating your spare room, taking over the kitchen table or making the most of your bedroom desk can help you work from home much more efficiently, and keep your motivation up.
Since the lockdown started in March, a huge amount of us have been working from home and trying to find the best way to keep ourselves productive. With some people returning to their workplace, a large percentage of workers are still at home and are expecting to be for the coming months. After working from home ourselves and struggling to find the best way to set ourselves up, We Buy Any House have put together some top tips to create your own home office – whether you're converting a spare room or building a Log Cabin to work in!
Renovate your spare room
Many of us have a spare room that isn't being used to its best potential. Whether your room is being used as a bedroom, a gym space, or a big unorganised cupboard, in less than a day you can transform it into a stunning workspace to keep yourself motivated through your shift. If you're on a budget, you can look for second-hand furniture on places like Facebook Marketplace or Gumtree, which can easily be upcycled to be as good as new. All you need is a desk and an office chair, and you can jazz it up in any way you please to add your own flair – a desk plant, a framed photograph of your family, or a stress ball, whatever you need to get through the day!
If you're not in a position to transform your entire room into an office space, you can strike a good balance. Try to designate one half of the room to your office space, and the other to whatever your spare room previously was used for. Some people find it helpful to have their backs to this side of the room, as it can help keep you free of distractions.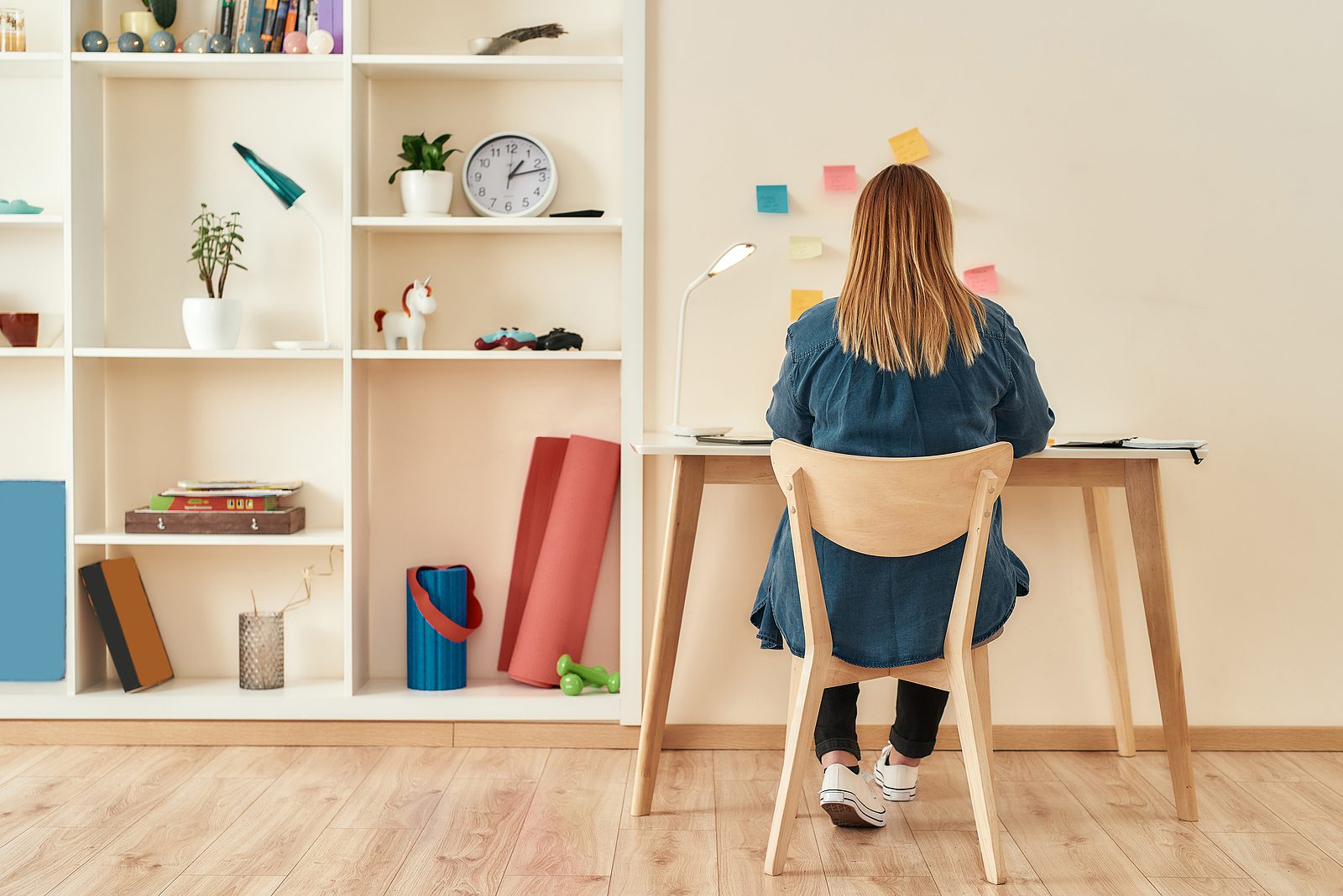 Take over the kitchen table
This will depend on your house and how you usually use this space, but a lot of homeowners have a kitchen table that they don't really use. It's incredibly easy to end up using it as a junk table, especially if it isn't really used as a dinner table. If this is the case, this can be the perfect place for you to set up your office. Some will set their desk up here and leave it up, but if you prefer to tidy things away for the weekend, using a laptop makes this very easy. At the end of your shift, you can quickly disassemble your office space and have your kitchen table back in just a few minutes. This is one of the most popular solutions for those working at home, but after months at home and with no change in sight, more people want a more long-term option.
Redesign your bedroom desk
A lot of us have desks in our bedrooms but tend to find other uses for it, whether it be as a TV stand, a dressing table, or extra surface space for storage. Working in your bedroom isn't always ideal as it's incredibly easy to get distracted, but there are ways to help yourself focus and stay productive. Wherever possible, have your desk facing away from things in your bedroom, so you have your back to any distractions. Make sure that any things that you need to do around the house, like laundry, cleaning, or tidying, is already done before you start work to minimise the things that can distract you. A lot of people working from home admit to getting distracted by household chores, so keeping on top of these should reduce the likelihood of this happening to you. Try to keep your desk space clean and clear, and only have what you need to do your job on there.
What should I avoid working from home?
There are a few things working from home that we've found make us less productive. Working from home is becoming the norm for millions of people, and we've all had to find how we work best. These are some of the more common problems that we, along with huge numbers of other workers, have found, and how you can avoid falling into the same traps.
Working in bed
We've all been tempted, especially as mornings are getting colder and the duvet gets more and more inviting. However, we can promise you that you will be less productive taking your laptop to bed and trying to work from there. It's best to try and mimic an office environment as much as possible to keep your mind focussed and to keep your productivity high. It also helps you separate your time more effectively between work and home, and is good for your mental health as it provides structure to your day.
Sitting on the sofa
For some, these solutions just don't cut it. More and more homeowners desire a proper office in their house and an office. If you're looking for a bigger home with office space and are wanting to move house, we can help. We Buy Any House can provide you with a free cash offer for your property letting you sell in as little as 7 days, leaving you free to find the house of your dreams with a stunning home office!
No matter what reason you're looking to sell, if you can do it in a faster and easier way than the traditional house sale, why wouldn't you? We Buy Any House can offer you exactly that – a quick, hassle-free sale that relieves you from the stresses of the property market and lets you focus on other things that are important in your life. Get in touch with us today for your free cash offer and see how quickly you can sell!
Back to all articles
You may also be interested in