06, June, 2023
Will I save money when I downsize?
We Buy Any House
Like you, every property is unique, so we'll just need a few details before we can make you an offer.
Will I save money when I downsize?
Downsizing can result in several spending decreases, but this is not a guarantee. If you want to save money when you downsize, there are certain steps you can take, such as moving to a substancially smaller property and cutting utility costs, however you should be aware of the upfront costs of moving that may cause you an issue if you're downsizing specifically to save money.
If you've been looking at downsizing, you may have wondered about the financial benefits of moving to a smaller house. Often, downsizing is considered a retirement move, but it can allow you to free up your finances if you have a concrete plan in place. We Buy Any House look at the ways you can save money in the long run by downsizing.
How can I save money by downsizing?
Doing your research before you move is a huge part of saving money when you downsize. There are lots of factors that you need to consider, but the ones that you should focus on are your long-term costs. These include –
Monthly utility bills – water, gas, electric
Home insurance
Travel costs.
Council Tax
Downsizing generally involves moving to a smaller property, so usually, your council tax will decrease. You should check this in advance, though – you can find out the council tax band of any property online, so you know what your monthly payment will be. This can differ area to area, so if you're relocating to a more expensive location, you should check the amount that you'll need to pay each month and factor that into your monthly costs.
Monthly bills
Again, usually moving to a smaller property should mean that your utility bills drop, but there are exceptions. Moving to a flat that only has electric heaters could become more expensive than gas central heating, depending on how often you need it on. Similarly, if your new house doesn't have double glazed windows, you could find that you lose a lot of heat and end up needing the heating on more. Ask plenty of questions when you're viewing your house to get an idea of how much your monthly bills will be. You can even ask the current owner how much they're paying each month to get a more reliable figure that you can then factor into your monthly costs.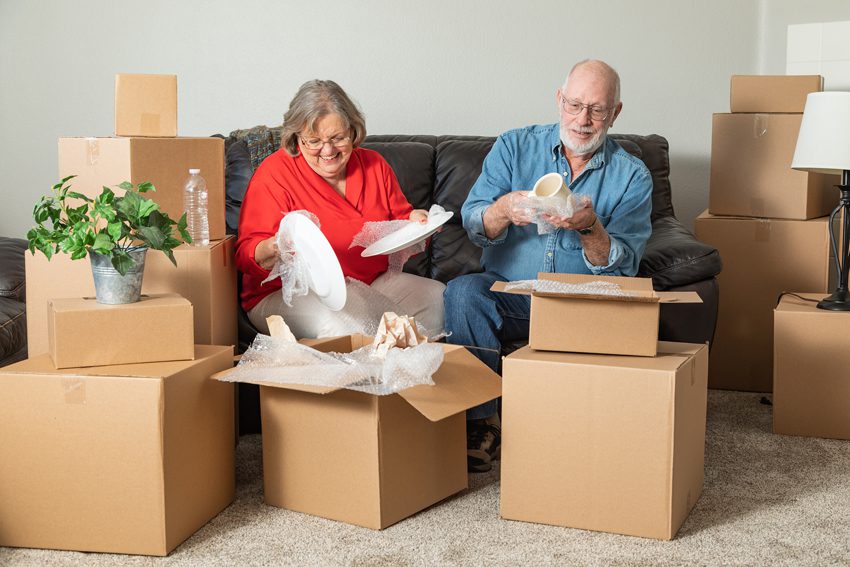 Home insurance
Researching different providers will make sure that you can get the best price possible, but this could also change area to area. Looking in advance to see how much your home insurance will cost in the new house will make sure you don't have any nasty surprises down the line, especially if you've moved closer to a city.
Travel costs
If you're moving to another location, you may find that your travel costs increase. If you have a car, you might be driving more which will push costs up. If you tend to use public transport, check what transport is local to where you want to move to. There may not be a bus route which could mean you have to pay more on other transportation, which will again increase your costs.
What other costs should I consider?
Several upfront costs should be considered when you move house for any reason, not just downsizing, such as –
Legal fees
Estate agent fees if you're selling to move
Your deposit, mortgage costs and extra broker fees
Moving van
Any new items you may need for the move.
Sometimes, homeowners looking to downsize don't think about the upfront costs involved in moving which can come as a big surprise. If you're moving specifically to reduce costs, you'll need to make sure that you take these figures into account. Downsizing may save you money long term, but the upfront costs could be an issue if you're having financial difficulties.
How else can I save money?
Moving house can save you money long-term, but there are other changes that you can make in your day-to-day life that could help you reduce your costs and help you save money. Reducing your unessential purchases can allow you to save a good amount of money, as well as making the most of any deals, such as Top Cashback offers on subscriptions to get you some cash back on things that you need. It takes some planning, but there are plenty of ways that you can cut your costs, from reducing meals out to switching to cheaper brands of food and clothing – and keeping an eye out for any good sales!
Are there other ways downsizing can help me save money?
Downsizing can allow you to free up equity. If you have paid the mortgage off in full and you're downsizing to a smaller house, you'll have plenty of equity that you can use for whatever you choose. Some homeowners decide to rent a smaller property rather than buy elsewhere, allowing them to use the proceeds from their sale for other things. This could give you more freedom for travelling or investing elsewhere.
Overall, downsizing can help you to save money, but you will need to take into consideration the upfront costs. If you're looking to save money because you're having financial difficulties, moving may not be the best option. Taking some time to assess your situation and decide exactly why you want to downsize is a good idea – you will likely find that you do end up saving money in the long term after downsizing, but considering other options may be beneficial for you. If you're struggling with finances and having difficulty paying your mortgage, there are other things that you can consider before you decide to downsize. If, however, you want to downsize when you retire and saving money is more of an added bonus than a specific necessity of your move, downsizing could be a great decision for you.
Selling your house when you want to downsize can be a big hassle, which is why we're here to help. We can provide you with a cash offer, and arrange your sale in as little as 7 days, leaving you free to downsize to the perfect house. We also cover your legal fees, reducing your upfront costs! Get in touch today to see how we can help you on your journey.
We buy any home in as little as 7 days, or timescales to suit you. Head to the We Buy Any House website for more information.
Back to all articles
You may also be interested in