06, June, 2023
What happens when my house is repossessed?
We Buy Any House
Like you, every property is unique, so we'll just need a few details before we can make you an offer.
The court has ordered the repossession of my property – what next?
You can apply for a suspension order to try and reverse the repossession.
If you've recently been battling against repossession of your house in court and the judge has ruled against you and the coure has ordered the repossession of your property, there are still options for you.
Repossession Order
One of the first things that you can do after the court has ordered the repossession of your property is to apply to delay your eviction. You can request that the judge suspend the warrant of possession, and this will either halt the eviction process for you to be able to pay off your arrears or allow you to stay in the house if you can start making your monthly payments again. If you apply for this, a new hearing will be held but there is no guarantee that it will swing in your favour.
Suspension order
You can also apply for a suspension of the eviction by filling out an application notice and giving it to the court. You'll most likely have to pay a court fee for a short-notice hearing as you'll need it before your eviction date.
If these do not work, your property is repossessed and you refuse to leave, your lender can send bailiffs to remove you. Bailiffs will be sent not only if there was an outright order for you to leave and the date has passed but you're still in the property, or if a suspended order was agreed but you've broken the terms; for example, making a late payment or missing a payment.
In this case, if your lender applies for an eviction notice they will send you a notice to inform you that they are going ahead with it and you can be evicted 14 days later if you have not left the property. It's a good idea to try and use those days before eviction to agree with your lender if you can, whether that be to find a way to make payments each month or if that isn't plausible, to give you some time to sell the property and raise funds to pay them.
What can the bailiffs do?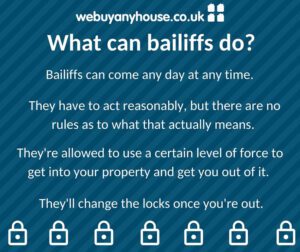 There are no specific rules about what day or time bailiffs can come to your property and no rules about what they can do or say either. They have to act reasonably, but that is open to interpretation, and if it's valid they are allowed to use a certain level of force to gain entry into your property and get you out of it. They will change the locks once you're out; if you're not in when they come, they can break in and change the locks too which will mean you'll need to contact your lender to collect your things another time.
As your lender has the right to vacant possession, you will have to remove all of your belongings when the bailiffs come. You may be able to arrange with the lender a suitable time to collect everything if you're unable to move all of your possessions on the day of the eviction.
How can I avoid bailiffs?
It's often best to sell the property yourself if you're facing eviction. The lender will sell the house when you leave, deduct what you owe them and then give whatever is left back to you, however as they will often have to sell the house at auction it could be sold for less than if it were sold traditionally through an estate agent.
If you're currently looking to sell your property to get out of a repossession order, contact We Buy Any House. They can provide you with a free offer on your property and try to get things moving as quickly as possible for you.
We buy any home in as little as 7 days, or timescales to suit you. Head to our website for more information.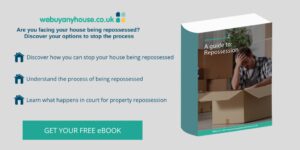 Back to all articles
You may also be interested in