06, June, 2023
How can I increase my kerb appeal?
We Buy Any House
Like you, every property is unique, so we'll just need a few details before we can make you an offer.
How can I improve my kerb appeal?
1. Front door
2. Dustbins
3. Maintaining greenery
4. Clean the driveway
5. Add some colour

If you're looking at selling your house, you've likely heard the phrase kerb appeal mentioned. A lot of homeowners don't realise how important kerb appeal is, but a potential buyer can lose interest in putting an offer in on your house before they step through the door. We Buy Any House have looked at what puts potential buyers off, and what you can do to avoid those issues!
1. Front door
Your front door can either welcome in your potential buyers, or have them wanting to leave straight away. The door to your house is really important, and there are a few things you can do to make it really stand out for potential viewers to increase their interest. If your front door is old, worn and scuffed, you may consider replacing it. Not all homeowners want to do this for a house that they're moving out of though, so there is a great back up option – repainting. Changing the colour of your door can make it look like new, and you can choose from a variety of colours to make it really stand out and attract attention. Grey, navy blue, lilac, yellow and sage green are all very popular choices and will refresh the front of your house. 
When doing this, you do want to keep in mind the style of your home and the neighbourhood houses. A very modern, brightly coloured door on a Victorian house may look a little out of place, so think of the bigger picture when you pick your door colour.
2. Dustbins
Some homeowners will have space at the back of their property to store bins that keep them out of eyesight, but a large number of homeowners have their bins at the front of the property, especially in terraced houses. In these cases, the bins can be unsightly and especially in the summer, smell. This can put potential buyers off, especially if they have to walk past the bins when coming in and out of the house. To resolve this, homeowners can clean the bins after they have been emptied – or if you aren't keen on doing this yourself, there are plenty of services that will do this for you. Clean bins will dramatically reduce the smell, making the bins less noticeable. You can also move the bins further away from the front door, to line up against a hedge where possible, to make the front area of your property look larger and to have them out of direct eyesight. While this may seem like a small detail, potential buyers are incredibly fickle and can be put off by minuscule details, so it's worth doing.
3. Maintaining greenery
While it may seem like an obvious suggestion, this detail can often get overlooked by homeowners, but trimming any hedges or grass at the front of your house is hugely important. Potential viewers will often see uncared for greenery outside and immediately assume that the inside is uncared for as well. In the summer months, try to cut grass at least once every two weeks, and if you have paving slabs, don't neglect to weed. You can find various weed killer sprays in garden centres, but often the best solution is to simply pull the weeds up. When you spray weeds, they will wither and die and can look more unsightly than they did until they completely die and rot away.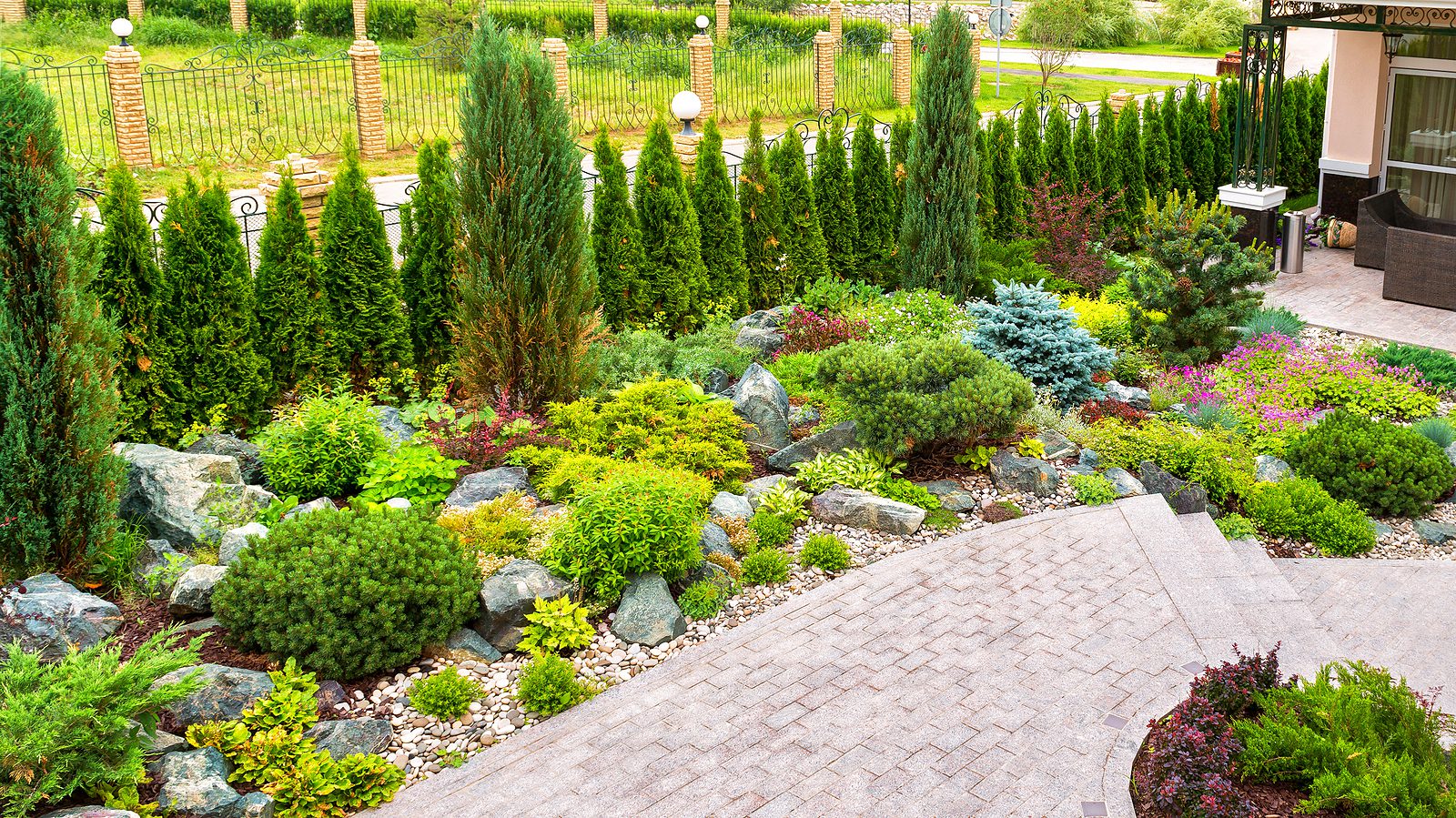 4. Clean the driveway/patio
Giving your driveway a sweep can make a big difference to the front of your property, especially if you live near trees in the autumn months and can get a lot of fallen leaves covering the ground. Sweeping them away will make the property look tidier and better maintained, and will also reduce the slippiness that could occur when it gets colder. Another great option if sweeping isn't giving you the result that you're looking for is to power wash the ground. If you have slabbed areas which are prone to become slippery as residue builds up on them over time, power washing them will alleviate this. It will also brighten the slabs and make them look newer and dramatically cleaner.
5. Add some colour
If you've done all of the above, but the front of your property is missing something, you can add some extras to make it more appealing. Hanging baskets by the front door are a great option, with blooming flowers that will catch the eye of any viewer as they enter the property. Plant pots are just as effective or climbing plants such as honeysuckle or ivy that can decorate the front of your property. These are an especially great option for cottages, but will give most houses a welcoming air providing you maintain it and don't let it grow out of control. Plants and flowers will also help to instil in your viewers that you put time and care into the property, encouraging them that the interior of the property is also in a good, well-maintained condition.
Kerb appeal is a really important part of selling your house, not only for when viewers come to see your property but for anyone going past. Often, anyone that is interested in seeing your house will drive past it before they arrange their viewing to get an idea of the surroundings and the outside of the property. Making sure that your house looks as good as it possibly can on the outside will encourage potential buyers in, and increase the chances of your sale. With over two-thirds of viewers saying that they were put off a property because of the exterior shows just how important kerb appeal is when you're selling your house.
For some, increasing kerb appeal just isn't an option. Whether it's because the property has been left in an incredibly poor condition, or you simply don't have the time and money to put into it, there is another option for you. We Buy Any House can help you sell in as little as 7 days no matter the condition of the property, leaving you free to move on to a new house and not have to worry about the stresses of selling. Get in touch for your free offer today!
No matter what reason you're looking to sell your house, if you can do it in a faster and easier way than the traditional house sale, why wouldn't you? We Buy Any House can offer you exactly that – a quick, hassle-free sale that relieves you from the stresses of the property market. Get in touch with us today for your free cash offer and see how quickly you can sell to us!
Back to all articles
You may also be interested in