06, June, 2023
How do I stage my house for sale?
We Buy Any House
Like you, every property is unique, so we'll just need a few details before we can make you an offer.
How do I stage my house for sale?
There are lots of good ways to stage a house, but the best way is to take it room by room so you know you haven't missed anything. Focus on decluttering each room, deep cleaning, redecorating where needed and making sure there are no issues in sight that could put potential viewers off.
When it comes to selling your house, it's really important that you know how to stage each room. We Buy Any House have created an ultimate guide that breaks down each room in the house, so you can make sure your home looks the best it can when your potential buyers come to visit.
Living room
Often, the living room is the first room that your viewers will enter, so you want to make sure it makes a lasting impression. There are a few ways that you can do this:
Declutter the room. It's easy to fill a room with various household items, but when your potential buyers are viewing, you want to make sure every room is decluttered as much as possible.
Redecorate. If your house is a little outdated or could do with a freshen up, redecorating can make your house much more appealing to your potential viewers. Choosing neutral colours will help your viewers imagine themselves living in the house, and avoid them being put off by any personal decoration.
Flooring. If you have carpets throughout your house, having them professionally cleaned will make a big difference for your viewers. If you have wooden flooring that's looking a little worn, you can refinish it to brighten it up and make it look like new.
Details. After doing a deep clean, you can present your living room to make it warm and welcoming. Make sure the sofas are plumped, and any cushions are straightened. Open any curtains to let as much natural light in as possible, and straighten any frames on the walls.
2. Dining room
A dining room is often very desirable for your potential viewers, so you want to make the most of this room.
Dress the table to make it look like it's used regularly. Even if you don't make the most of the room, giving the impression that you do will encourage buyers and show them how beneficial the room can be to them. You can bring out any fancy crockery you might have to really make the room shine too.
A tablecloth. This will depend on the condition of the table – if you have a table in good condition, you might leave this one, but if the table is a little worn a tablecloth can hide this while making the room look very smart.
Make the use of the room clear. If your living room is open with the kitchen, it can be easy for the rooms to merge slightly. If you tend to use the dining room as more of an office space, consider the types of viewers you're going to have and decide what they would be more interested in, a dining room or an office. You can then advertise the room as the one you think will be most popular, drawing the viewers in.
3. Kitchen
Kitchens tend to be the heart of the house, so taking some time to dress it in the best way possible will hugely boost your viewing potential.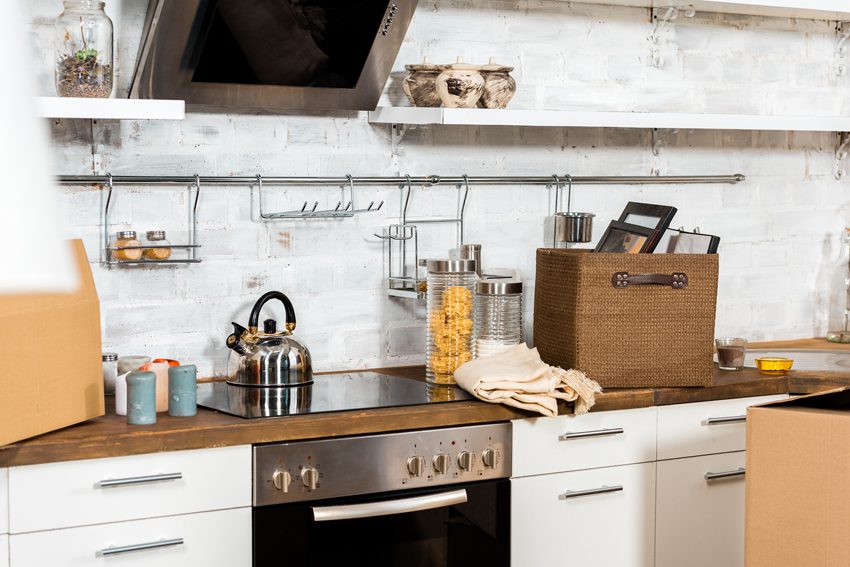 Squeaky clean. Nothing puts viewers off like a dirty kitchen, so spend time ensuring the room is completely spotless. Put away any crockery, make sure the sink is sparkling, and mop the floor, making sure to get into every corner.
Consider new flooring. Some older houses may have carpeted flooring in the kitchen, which will put off most buyers nowadays. If your floor has seen better days, consider a replacement in something easy to clean and hard-wearing, like vinyl or tile.
Worktops. Worktops tend to get scratched and chipped over a long period, and if yours is in this condition, you might want to replace it. If you're not willing to do this, you can cover the extent of the damage with strategic placements of chopping boards or appliances, but you should let anyone who's keen to move forward with the sale that there is damage, as hiding it could cause issues down the line.
Decoration. A well-decorated kitchen will stand out massively, so think about adding in matching appliances, a stylish fruit bowl or pasta jars. Try to pick one or two colours and stick to them, so it doesn't get overwhelming for your viewers.
4. Bedrooms
Your bedrooms should be comfortable rooms, with a good balance of space. While you can't change the size of your bedrooms, there are a few things that you can do to make them more spacious.
Get rid of as much clutter as possible. Bedrooms are an easy place to fill, so clear the floors and surfaces to give as much space as possible.
Colour scheme. Neutral walls will make any room look bigger. Avoid dark colours as this will make the room appear smaller, and can put viewers off.
Keep it simple. Bedrooms don't need a huge amount of furniture, so where possible keep things to a minimum. Filling rooms will make them look smaller, so make the most of the space.
Make the bed with fresh sheets. Some homeowners overlook this small detail, but a messy bed can put buyers off, and it only takes a few minutes to fix this.
Storage. If you have built-in wardrobes, make sure they're tidy inside, as buyers will likely want to look inside them.
5. Bathrooms
Bathrooms have become more important for potential buyers, so taking some time to make this room really stand out will help you achieve your sale.
Say no to coloured suites. Colours like avocado green, hot pink or peach were very popular, but are now outdated, and can put the majority of your buyers off. Replacing these with an all-white suite will make a big difference to your bathroom, and be much more appealing to viewers.
Damaged tiles. If there is any damage in your bathroom, such as cracked tiles or stained panels, replacing them is the best option if possible.
Deep clean. A bathroom is one of the most important rooms to keep clean, as any dirt here will absolutely raise doubts in any viewers mind. Make sure the room is spotless before any viewings, and an open candle or reed diffuser will keep the room smelling fresh.
Organise. Most of us are guilty of having too many bottles in our bathroom, so put as many of them away as you can to keep the room looking tidy and minimalist.
Décor. Any bathroom needs a good mirror, so if you don't have a mirror in yours, you're missing out. Bathrooms can tend to be a little white-washed, so adding a pop of colour with clean, matching towels and a plant or two in the windowsill can really brighten the place up.
Taking these steps will help avoid any small issues cropping up and putting buyers off. It doesn't take a lot for buyers to find potential problems with houses, so preparing for those that you can fix will increase your chances of hitting a sale. Dressing a property makes a big difference, and when speaking to potential buyers, the above points are all things that put them off a property they otherwise liked. Some may seem very superficial, but in general, the viewers thought that if there were issues on the surface, further issues would likely be uncovered down the line.
If you're not in a position to make these changes before you sell your house, or don't want to have to go through several viewings with no guarantee of a sale, we can help. We Buy Any House will buy a house in any condition. Get in touch today for your free cash offer and see how you can sell in as little as 7 days!
If you're looking for a quick house sale, you're in the right place. We Buy Any House can get you a free cash offer on your property and show you how you can have your house sold in as little as 7 days. If you want a quick house sale, get in touch with us today.
Back to all articles
You may also be interested in