06, June, 2023
5 things you need to know as a first-time buyer
We Buy Any House
Like you, every property is unique, so we'll just need a few details before we can make you an offer.
What do I need to know as a first-time buyer?
When buying a property for the first time, knowing the buying process is incredibly important. Think about –
1. The amount you need for your deposit
2. Hidden costs
3. Freehold vs leasehold
4. Risk of rejection
5. How to view properly before buying.
With all the current changes to the property market, especially the stamp duty holiday and with a decrease in house value, now is a perfect time for first-time buyers to get their foot on the property ladder. Buying property is one of the biggest purchases that you're likely to make, so doing your research is vital. We know how complicated buying a house can be, which is why here at We Buy Any House we've gathered the most important bits for you.
1. How much do I need for my deposit?
The first thing you need to know before you look at buying a house is what kind of property you're looking for. Property tends to be a long-term purchase, so think about where you want to be in 10 years and make sure you're buying a property suitable for that plan. Once you know what sort of property you want to buy, you can start researching and get an idea of the average price. You'll need to know this price to then work out how much you need to save for your deposit. Generally, mortgage lenders will request a 5-20% deposit, so you can work out what you need when you have a price in mind. The more you're able to save for your deposit, the better as it will mean you're eligible for more mortgage rates, which will often mean you can find something cheaper.
2. What other costs do I need to consider?
When buying a house, there are several hidden costs, which if you aren't aware of can cause issues down the line. Hidden costs that you should be aware of are –
1. Surveys:
There are several different surveys that you can get for the property you're looking to buy, with a range in cost. Some buyers are tempted to skip their survey to save money in the buying process, but these surveys reveal if the property you're looking to buy has any issues that could cause you trouble as the owner, such as subsidence or damp. While the upfront cost of a survey can be off-putting, the cost of having to have a property underpinned due to subsidence can sit at around £50,000, making a survey more than worth its money. These surveys can also reveal issues that allow you to haggle with the seller, and bring down their asking price if there's work that needs carrying out.
2. Legal fees:
You will need a solicitor to verify the purchase and sign off on the legalities.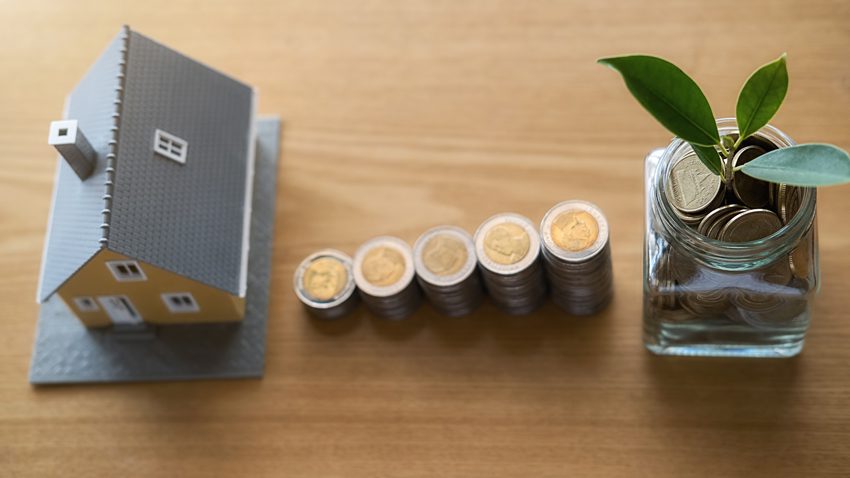 3. Mortgage arrangement fees:
Your mortgage lender will have a fee that is not included in your deposit for their arrangement of your mortgage, along with a valuation fee to ensure the correct value of the property you're looking to buy.
4. Moving costs:
You'll likely need to hire a moving van, and probably some helping hands too. If you get lucky, you'll be able to enlist the help of friends and family, but if you need to hire a moving service, you should factor this in as this can cost a few hundred pounds depending on the amount you have to move.
3. What's the difference between freehold and leasehold?
If you've started looking into properties that you want to buy, you've likely heard the terms freehold and leasehold. A freehold property means that you buy the house and the land that the house is built on. If you buy a leasehold property, which is usually a flat, you are buying the property but not the land that the property is built on. This will mean that you'll need to pay annual ground rent, and a possible maintenance cost. When looking at a property's lease, you should be aware that it can be harder to sell a property with a low lease, and some mortgage lenders will not approve a mortgage application if it's for a property with less than 70 years on the lease.
4. What are the chances of my mortgage application being denied?
When you apply for a mortgage, you'll need to show proof of your income, along with an outline of your outgoings. Your credit score will also be considered, as well as your ability to pay back the mortgage. These checks are rigorous, and can be a slow process but are in place to make sure you can afford the mortgage you're applying for and decreases the chances of falling into financial difficulty. There are ways that you can help yourself and make it more likely for your mortgage application to be approved.
· The more you save for your deposit, the better
· Make sure you have a strong credit score
· Have a regular, reliable income
Being aware of what mortgage lenders look for will help you be a good applicant and increase your chances of being approved for your mortgage.
5. What should I do when I'm viewing?
Before you book your viewing, outline the things that you need from the house. If you work from home, you want to make sure there's an office space, and if you have pets, you'll likely need a garden. Make a list of all of the features that your house will have to have, and make sure that each house you consider has them before moving forward to viewing it. This will save you time and stress, as all too many viewers go to houses without doing enough research and wishing they hadn't bothered.
Wherever possible, take someone with you to your viewing and take as many photos as you can. You'll find after a few viewings they all viewings blur into one, so make sure you have photos of each and can identify each house from them. Some viewers even video as they walk around, so they can re-watch the tour and make sure they haven't missed anything. Taking someone with you is a must if you can, as a second pair of eyes can reveal all sorts of things you might not notice. Viewing a house is often an overwhelming experience, and you may find yourself getting carried away, which is why having someone else to see things you might not, can save you any hassle down the line.
Ask as many questions as you can. Preparing a list of important questions is a good idea, so you can find out all the information you need but might forget to ask. Think about things like the council tax band, the local transport links, traffic levels. Ask about the neighbourhood, how close the local shop is, and what the seller is planning to leave in the house when they sell. Viewings will go very quickly when you're in the building, so having a list of things you want to ask will make sure you walk away knowing everything you need to so you can compare houses and decide which is the perfect one for you.
The most important thing to remember as a first-time buyer is not to settle. You may be keen to get on the property ladder, but don't go forward with a property that you're not fully invested in. Buying a house is a huge commitment and probably one of the most expensive things you'll do, so make sure that you've found the perfect property. Buying a house is a very long process with all sorts of potential delays and risks, especially with the chance of a chain break, making the sale fall through. Being aware of these delays will help you stay calm and in control throughout the buying process until your completion day.
Back to all articles
You may also be interested in